-Double-header on tonight in Open League ChampionshipBy Joe ChapmanMAINTAINING their imperious form, and yet again led by their fabulous core players, Victory Valley Royals topped the points standing with a perfect 12 points after a 98-72 demolition of Retrieve Raiders, while Bankers Trust Falcons gained their second win beating Block 22 Flames 63-57 Friday night.
Chris WilliamsThe following night Amelia's Ward Jets closed out the first round with a 68-46 win against Christianburg Pistons at the MSC Hard Court, as the Linden Amateur Basketball Association (LABA) organized Mackenzie Sports Club Open League Championship continued.Royals ended with six wins to be unbeaten while Half Mile Bulls who lost their only game versus the Royals, is in second spot on 11 points from five wins and one loss; third are Jets with four wins and two losses for 10 points, Raiders are next on nine points from three wins and three losses and Falcons ended with eight points after two wins and four losses.They are followed by Flames with seven points from one win and five defeats as Pistons are in the cellar position after losing their six games in this seven team championship.Meanwhile, Orlando Glasgow continued to lead the Royals with 31 points in that match against Raiders, who at one point seemed in with a chance when the scores read 17-16 and then 43-36 at half time, favouring the Royals.But things went against them (Raiders) as the third quarter ended with Royals up 64-49 and finally Royals coasted to a 98-72 win. Harold Adams maintained his good scoring form with 19 points, Chris Williams had 15 and the supporting players this time were Trevor Profit and Marlon Pollydore who each netted 11 points.Neil Marks scored 18 points and Keon Cameron 16 while substitute Darwin Lovell supported with 13 in the losing cause.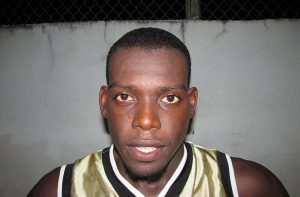 Harold AdamsMeanwhile the Bulls maintained their strong position to contest the final round of play and challenge the Royals for the league championship entering round two, as young Akini Wilson and Donnel Benjamin presented them with 19 and 18 point performances in their 68-46 victory against Christianburg Pistons.For the Pistons A. Innis and Mark Louis were their best payers with 14 and 12 points respectively.Two more games in the second round matches are set for tonight at the MSC hard court. At 18:30hrs Royals are down to play Falcons and at 20:30hrs Raiders face Jets.